Oooh I have been waiting for this moment! I love Christmas oh so much and this is the first time ever that I am doing a Christmas in July kit! This kit is full of wonderfully wintery papers, embellishments, ribbons, and more for you to create Christmas and winter themed paper crafts, scrapbook pages, and mini books.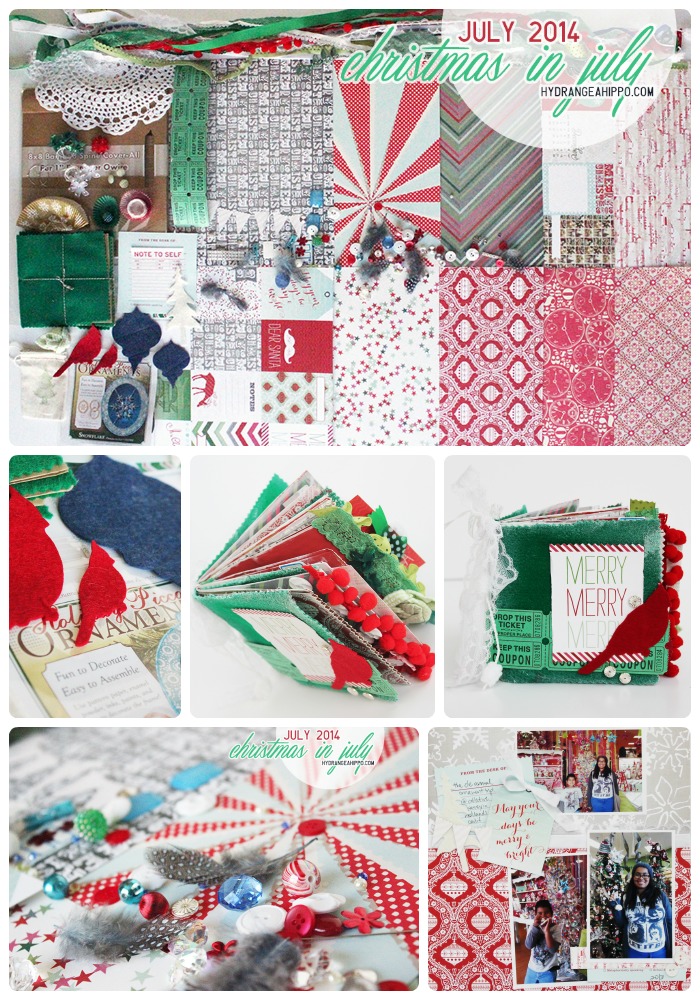 Here's a look at the kit in detail:
This month's kit includes the following:
Felt Paper Bag Book
8×8 Zuter Cover-All Book Cover
8×8 Zutter Cover-All Page Protector
14 Loops of O-Wire
Assorted Cupcake Liners in Scandinavian Prints
1 Wool Felt Tree
1/2 Crocheted Doily
Stamped Cotton Drawstring Bag
2 Wool Felt Cardinals
2 Wool Felt Ornaments
1 Globecraft Memories Ornament Kit
Pennant Banner Cut Outs
Gingham Fabric Covered Buttons
Gingham Fabric Flower
Blue Speckled Feathers
White Starburst Buttons
Red Buttons
Blue Sew-On Gemstones
Assorted Sea Glass Beads
Assorted Semi-Precious Stone Beads
Assorted Beads
Assorted Crystals
Over 10 Yards of ribbons and trims
1 Strip of Carnival Tickets
Red Shimmer Pom Pom
Candy Striped Bead
Green Raspberry Bead
1 Sticky Notes
1 Stick Tab
Assorted Jeweler's and Mini Gift Tags
Sequin Flowers
Green Shimmer Flowers
White Gauze Flowers
Metallic Beads
Stick Pins with Pearl Top
10 Sheets of Double-Sided Patterned Paper
Crystal Beads
and more!
You can create this mini book using all the supplies in this kit plus adhesive and acrylic paint. Check it out!
And coming on Tuesday, a scrapbook page tutorial over at Layout-A-Week.blogspot.com