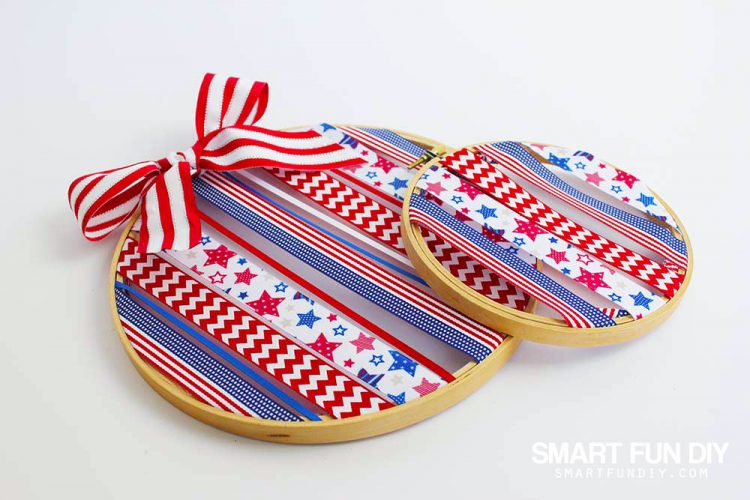 Are you ready for 4th of July? Grab a couple embroidery hoops and your scrap ribbons and whip up this CUTE 4th of July decor with the stars and stripes. If you have ribbons patterned with stars and stripes, that's great but if you don't, just gather the red, white, and blue ribbons from your stash to make this easy hoop art. You can hang these on the wall, hook them together to dangle from your front door like a wreath or lean them on the mantle. Easy peasy, right?!
This post contains affiliate links – if you make a purchase from these links, the seller sends us a cut which helps us keep bringing you free tutorials like this! Thank you for clicking ;)
Hoop art is really big right now and if you don't embroider, you can always get in on the trend by using hoops without stitching. This hoop based craft is super simple and anyone, any age can make it. You can use hot glue like I did to make permanent decor or use a temporary adhesive so you can change out the ribbons with your decor or seasonally.
Love ribbon? Then you're gonna love this tutorial about how to make ribbon roses!
Here's where I displayed my hoops after creating them:
Aren't these cute? Display them hanging on a wall, sitting on an easel, or hanging from ribbon on your front door like I did.
If you like using ribbons to make patriotic crafts, check out how to make a patriotic ribbon banner!
Here's what you'll need to make this project:
embroidery hoops – I like this set because it comes with various sizes (be sure to click to see the latest price – it's sometimes lower than what I paid!)
assorted ribbon
We made these on a LIVE show so you know they are easy to make! Watch how to make this 4th of July hoop decor project here:
Change the colors and patterns of the ribbons for any holiday. And even if you make them red, white, and blue like I did, you can display these 4th of July embroidery hoops for Labor Day, Memorial Day, and any other patriotic day. Spread the ribbons apart and use these to hold hair clips!
What would you use these decorated embroidery hoops for?
Find even more patriotic decor, party, and recipe ideas on our AMERICA Pinterest board.