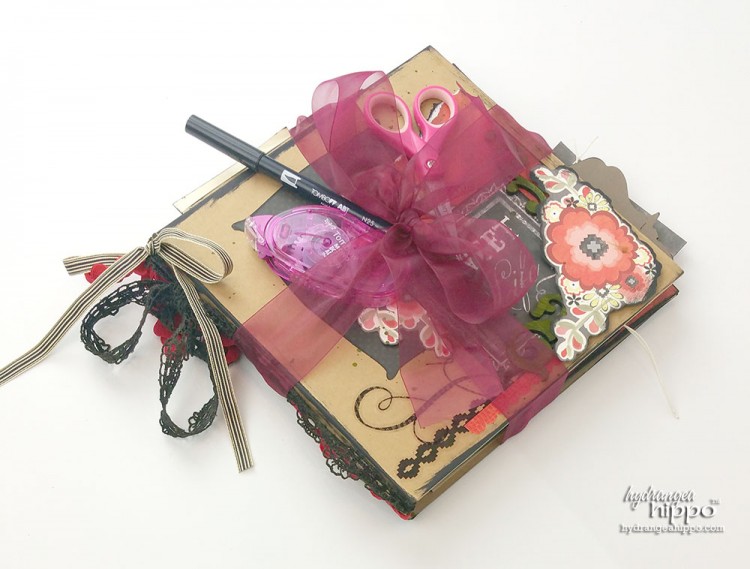 Valentine's Day is all about expressing love for anyone you care about, even family members! Create a scrapbook album for someone special, personalizing the pages for them. You can add their name, write special notes inside, or even create the album with their favorite colors to make it extra special. I think sometimes we get so caught up in expressing love to our spouse (or cat) that we forget that Valentine's Day can be about celebrating the bonds between family and friends. That's just what this DIY Valentines Gift is all about. Please note, this post contains affiliate links.
I think the best kinds of scrapbooks are those that are handmade.
By creating an album from scratch, you can include unique elements such as ephemera, a variety of page sizes, and even envelopes to hold mementos or extra photos. The effect is a unique, multi-faceted book that is entertaining for anyone to flip through:
Gift this book with a selection of adhesive and a pair of scissors so they can easily snip photos and mementos and adhere them in the book. Add an acid-free pen to make adding photos and journaling easy.
Tip: Use acrylic paint to "distress" the edges of mini scrapbook pages. This prevents your inkpads from being cut by the sharp edges of the chipboard and gives a shabby, worn look to the project.
Gift an album like this for Valentine's Day along with a gift card so they can order photo prints from their favorite digital developer.
Who are you making a DIY Valentines gift for?
Thanks again for stopping by! Click HERE to sign up for my monthly newsletter, full of creative goodness. See you again soon!