I sure do!! That is the square mileage between all the stores I teach at–hot dawg!!! It is about 85 miles from Scrapbook Blvd (the northernmost store) to It's About Time (the southernmost store). It's about 45 miles from The Scrappin' Table in Placentia (the westernmost store) to Collective Journey in Redlands (the easternmost store). Scrapping Lounge in right smack in the middle! I just can't believe it is that many square miles but it is–I know I did the math right!
After reflecting on that (and thinking I must be spending alot of time away from home! LOL) I stayed in my PJs today and scanned and uploaded everything I did on National Scrapbook WEEKEND. (Thanks to everyone who has been leaving comments–you still have time to enter my drawing!) I was still recovering from it TODAY–I took a 2 hour nap this AM. Seriously! LOL I did make a cute Mother's Day project sample for my Girl Scouts to copy yesterday and make for their moms but I can't post that here because some of those moms could be reading and I don't wanna spoil the surprise. Other than that, I am just packing and getting ready to move into my new scraproom! (Forget the house, I just want the bigger scrap room! LOL)
Some layouts I made this weekend are missing from the pics below –on one I used those K & Company glitter letters that sprinkle glitter everywhere so I did not want to put that one on the scanner. I took a pic and have yet to download the pics. The second one I am considering submitting so I am keeping it to myself for now. It was the last layout I did at the WhoGAS crop on Sunday and those of you who were there know how proud I was of it! And the third is missing a couple of pics I need to get printed. And a fourth I have not yet scanned because it needs some stars or something on it–still mulling that over in my head…
Without further ado, here are the fruits of my labor:
Some cards I made from scraps: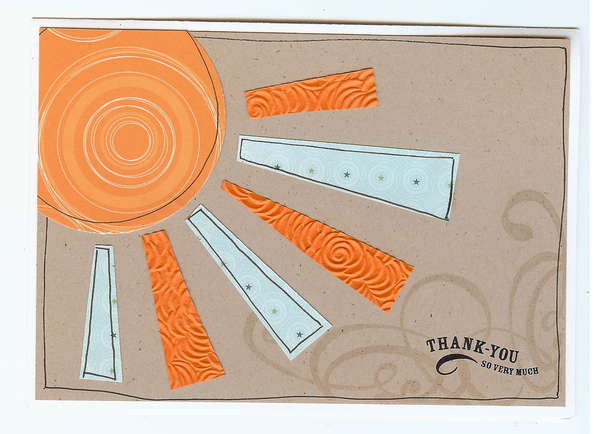 I used some new Martha Stewart Punches (butterflies and borders) on these. As much as it sounds like an oxymoron, these Marthe Stewart punches are pretty cool!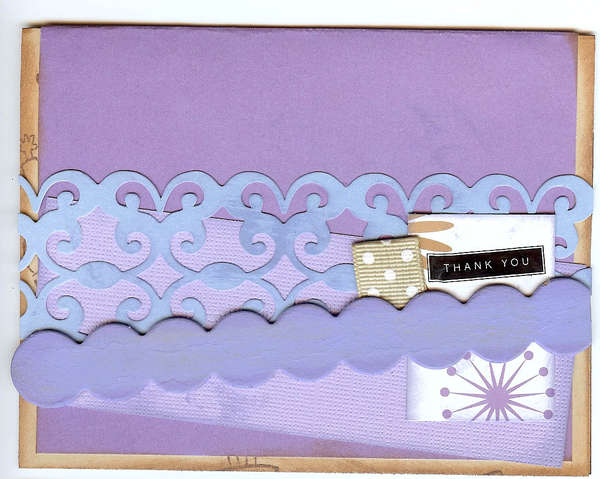 Used my new Quickutz Fiesta Dies on this–woohoo! LOVE it!
This page and the two pager above it are ones with no pics because Katie makes all these signs and fun little things out of paper (wonder who she got that from?!?) and I have them all in a Rubbermaid tub. After the No Spending Challenge and doing all that organizing I decided I should start scrapping this kind of stuff. I only got 3 pages done but hey, that is something!

Finally put pics on this page–it was from the second "Six Months In A Day" Class I taught last year:
Some more Matt layouts. I got these clocks and the big "S" from the Scrappin' Table on Saturday:
I had started this layout at the Desert Scrappers Retreat in January. Somehow it got back into the bag of supplies, I forgot about it, and I found it this weekend and added the last little bits like the title and embellies.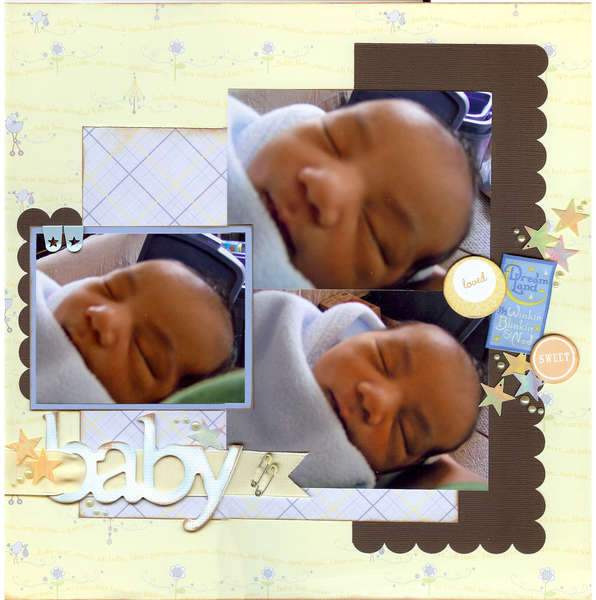 I also did one of the make n takes at The Scrappin' Table (Johanna's frame) and helped my friend Robyn with a sports scrapbook she was making as a gift. As soon as I unpack all my stuff I'll get the pics up. The frame was too cute. Didn't take pic of Robyn's book but we made some pretty cool basketball embellies ourselves that just might show up in a future class….