Let's face it – we're all watching our pocketbooks this year. The economy is in the toilet and no matter how much money we make, it doesn't seem to go as far as it used to. Well, that doesn't mean you have to stop scrapping or start skimping on your projects. Here are some ideas to make your pages fabulous that will make you feel good too.
Make a Page, Make a Card
They say that in this information age we don't connect with people anymore. There is this "back to basics" movement going on and what better way to connect with friends and family than with a handmade card?
After you create a page, instead of adding your scraps to your stash, use them to make a greeting card (or two or three). Use every bit of scrap, every sticker leftover, every bit of ribbon leftover from that layout or project. You won't have to put it away and your card will certainly put a smile on someone's face.
Don't have any friends or family to send cards to (I doubt that)? Well, you can donate your cards to Scrapbook Royalty. We are currently collecting cards for the troops for Mother's Day and Father's Day and we collect Holiday (Xmas etc) cards all year long to send to the troops in November. Or you can assemble them in a set and sell them on Etsy to make a little scratch for yourself.
I created this layout a couple of weeks ago: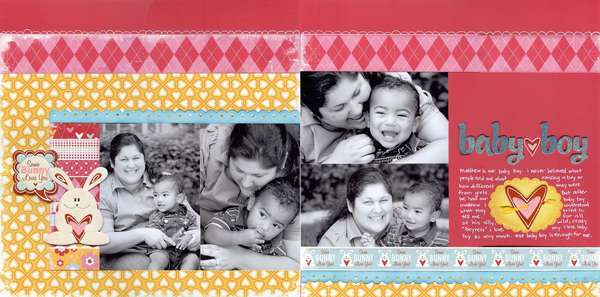 And then this set of cards from the scraps. I tried to sell them on ebay but no one took so I ended up just using them to send to friends.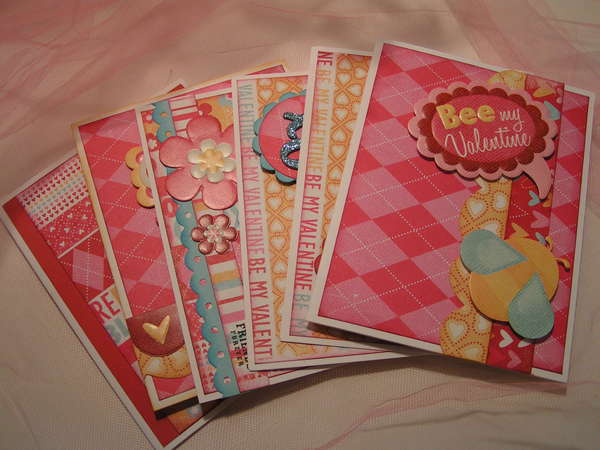 I also did this card: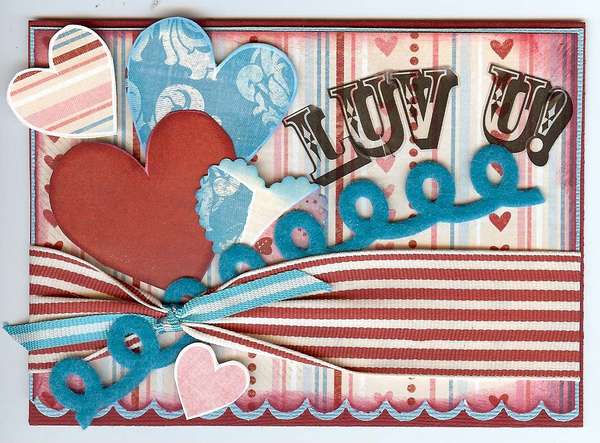 …From scraps from when I taught this class:
Use your Tools to Make Your Own Embellies
We've all invested in tools over the years, whether it be a punch or a fancy diecutting machine like a Silhouette or Cricut. Some of you even have Accu-Cut machines!
Make your own embellies. It is nice to have really awesome fashionable embellies but let's face it: we'll go broke trying to buy every piece of every collection out there. Cut some flowers or accents from the new paper you just bought. Pull a couple fancy brads or buttons from your stash and dress those punchies up! Or add some hand stitching or doodling. You can even paint the edges for a more distressed, shabby effect.
You don't have to be a creative genius to do this either. Just look at the products on the market you like and mimic them with punched or diecut paper shapes. There is alot you can do by hand with what you already own. Then when that one embellie comes along that you just have to have or you will die, you can buy it guilt-free.
I created this flourish from chipboard scraps I diecut with the Sizzix Big Shot. Then I painted them black and dipped them in glitter — instantly fancy. I punched the butterflies form some scrap paper I used in the class. The big Fleur De Lis is also a diecut–you can do alot with diecuts and they are cheap. I can get 12 Fleur De Lis from one sheet of 60 cent Bazzill.

Here I wanted a cut pie diecut but to dress it up a little I added some stickles for the cherry filling. I also used metallic silver paper for the pie plate. This pie cost less than 25 cents to make — would be alot more expensive to buy a dimensional sticker (not counting the cost of the die and such, just breaking out the cost of paper and a little squirt of stickles).
Back to Basics: Stickers
Way back when we had just cardstock and stickers. I am sure you still have some of these in your stash. Back some stickers with cardstock and put them on pop dots to add dimension. Tie some ribbon or tulle into a knot and insert it behind your popped up sticker. Use those things that are in your stash to dress up your pages. You can do the same with stamps – stamp an image, add some stickers, maybe some string or mini flowers and you have a great accent.
On this page I stamped some butterflies on some scraps and then cut them out. The green felt flowers & felt border (under edge of photo) — cut from a coaster I found in the $1 spot at Michael's. I dressed them up with some KaiserCraft pearls. The vellum I had in my stash, just cut it into three strips and inked the edges. The ribbons have also been in my stash for YEARS. I used some brads from my stash for the title, stamped "Memories" and then used some Making Memories Tiny Alpha Stickers for the "Monterey". This page uses just one sheet of patterned paper too. Whole layout cost less than $3 to make.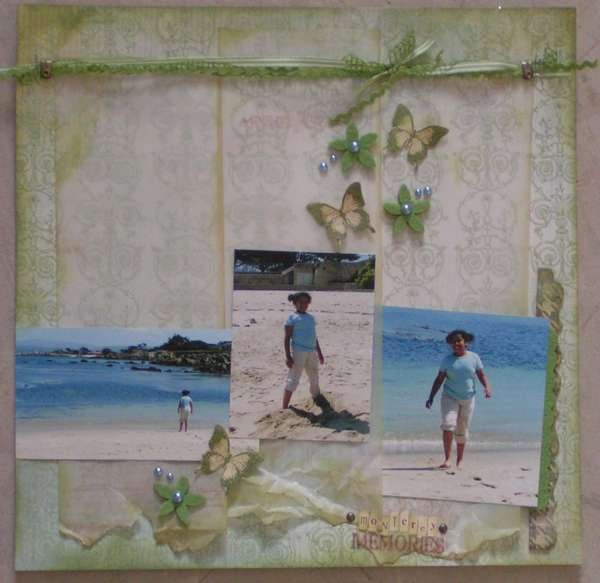 I sd stickers on this page to dress it up: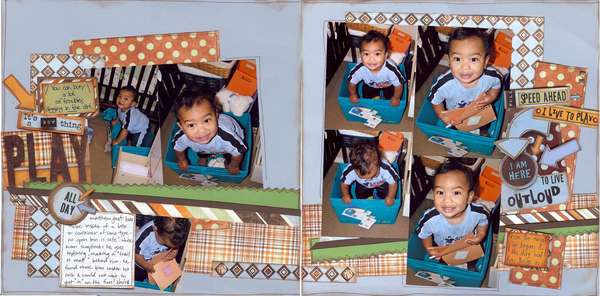 They are all backed with CS and then popped up with pop dots. I even cut some of the stickers up to make them fit with what I wanted.
Use Items from Around the House
Pop can tops, paper clips, CDs, packaging from a cute box or gift, even pressed flowers from your back yard–you can find alot of great embellies in your own back yard. Run some pasta jars through the dishwasher, fill with candy and then decorate the lid for a fun little gift. Bind a some paper bags or office envelopes together to create a fun mini book. Green is in too.
Decorate Your Home
Everyone loves to have a home that is decorated well. You can do it yourself! Take an old frame (from a flea market or yard sale) or buy a new one (I love the ones at Ikea) and decorate it. You can create your own series of mini layouts in frames and put them collage style on your wall. Ir create a great wreath or hanging for your front door to welcome guests. Use your supplies in a way that you can see them. Also, this is much cheaper than buying pre-fab art, even if you get it at Target (I think their cheapest art piece for the wall is like $50 and everyone has it already). You'll feel good seeing your money and hard work pay off and everyone will love seeing your creations (and their pics if you work those in) up on the wall. There are alot of clearance deals for frames and these kinds of items at discount stores so you can get a bargain. Also, many scrapbook stores sell frames and trays (think Kaisercraft) that are perfect for altering. even at full price it is cheaper than buying "art" from a store.
I used a piece of diecut chipboard as the base for this wall hanging about me and my hubby: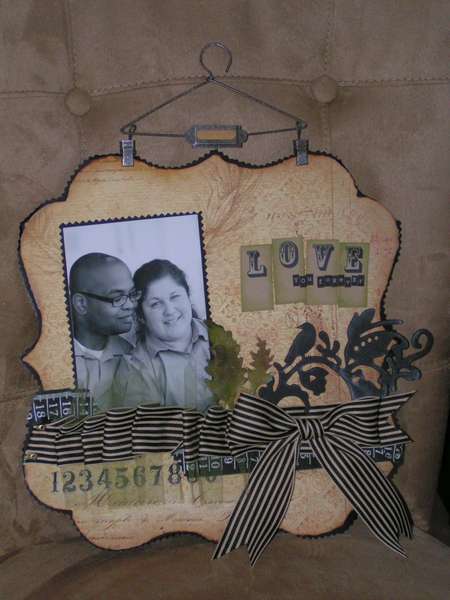 I altered these storage boxes from Ikea for my scrap room. But even if you have something like (these are actually in the office storage section of the store) other places in your home you can "cute it up" on a budget.
Here is a trio of 6×6 canvases I altered for a class I taught early last year. They were hanging in the hall between my front room and kitchen but now they are on easels on our bookcase. Just a nice fun project. The canvases are under $1 each at Dick Blick Art Supplies in Pasadena or you can use chipboard.

Even the canvas board Covers from Zutter would be a good base. And you know Donna Salazar, always using corrugated cardboard. How cool would that be? Actually, I have a layout using corrugated that I did in her Prima Master's Class last year hanging in my hall way:
Happy Creating!