With the time between Thanksgiving and Christmas being so short this year we're all scrambling to make our list and check it twice. Here are some easy gifts you can make last minute for the hostess of a Holiday Party, a co-worker, or just as stocking stuffers for your family.

Checkbook Style Calendars. You can get these for $1 at just about any store out there, like Target or Michael's. Cover it with patterned paper and then embellish. I like to use diecuts because usually these get used and abused throughout the year and you don't want little embellies like beads falling off and sticking to the inside of someone's purse. Here are some I made for my DD's teachers in years past, one I sold, and a couple I made as stocking stuffers for my mom and sister:
Candy Bar Assortment. Everyone has a favorite candy. Most candy bars go on sale around the holidays, especially the Hershey brand candy bars. Buy a few of the person's favorite candy bars. Wrap them in decorative paper and put them in a cute container. Why pay $40 for a decorated candy tin when you can embellish the gift yourself?
I decorated several candy bars and then put them in this box I had from a package of Prima Flowers, which I also decorated: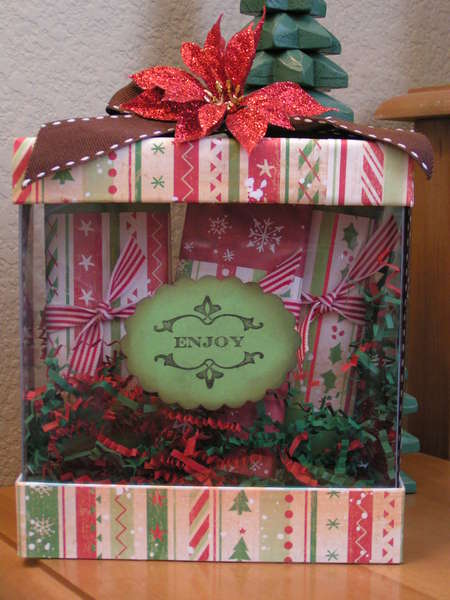 Card Gift Set. Make a series of cards for any occasion, such as birthday, congrats, and thank you cards. Wrap them in a pretty box. Everyone loves a handmade card. Alondra, from Who Gives A Scrap?, always uses her scraps from her pages to immediately create a few cards. This way she always has cards on hand. And she doesn't have a lot of scraps to put away or manage! The idea has caught on so well, several of the WhoGAS members do this at our crops as well.
Here is a set I made to sell on ebay:
And here is a set I made for my mom to give to a friend–it also includes a notebook. Inside the tin are 10 different general occasion cards:
Here is a card box I made for my sister a few years back, mod podging scraps onto a papier mache box and then I filled it with cards:
An Altered Notebook. Simple, yet cute notebooks can easily be purchased at any office supply or discount store (like Target) for under $5. Simply cover the book with patterned paper and add a little embellishment. Here is a set of notebooks and a post-it note holder I made for my husband one year: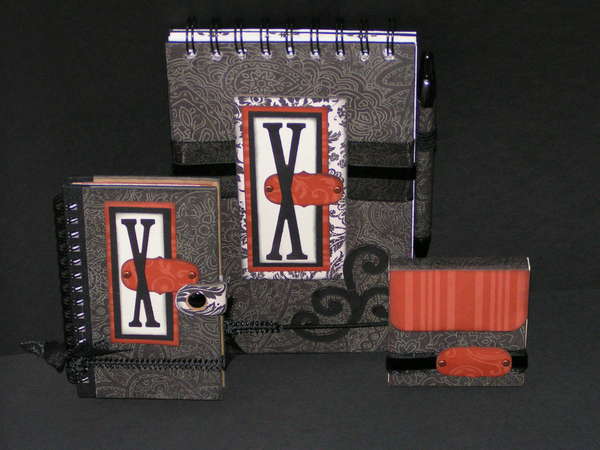 And another notebook I sold last year: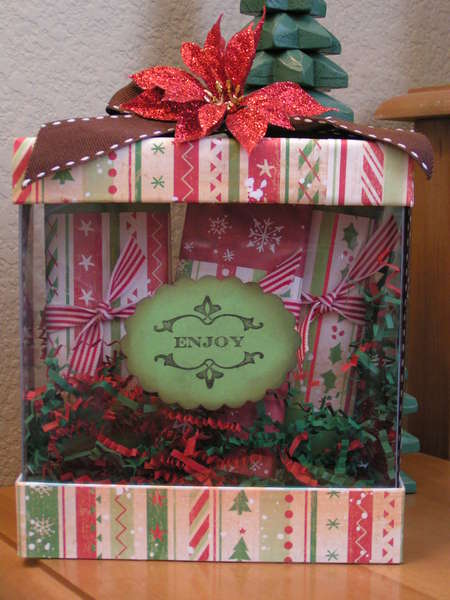 Alter A Set of Jars. Prima "Got Flowers?" jars, Starbuck's Frappucino Jars, canning jars…Just scratch off the labels and run them through the dishwasher. Then fill with candies such as holiday M&Ms, Herhsey's Mini Assortment, or Hershey's Kisses. I've even used those Ferrero Rocher Hazelnut candies one year! Punch a circle to cover the lid and then cover the rim of the lid with ribbon. Add a label or bow to the center and instant gift, 100% recycled! If you use Starbuck's Frappucino bottles you can even decorate the box they came in. Here are some ideas:
A Birthday Frappucino Box:
Some bottles I altered for St. Patty's Day:
A Christmas Set. I put flowers on the tops iof the lids:
A couple of Christmasy bottles:
Enjoy!