We're excited to welcome Melissa Johnson as this month's guest designer! Melissa is a self employed small business owner, artist ,wife, and mom to 5 amazing kids. We loved her work on her blog and knew she would bring a whimsical, artist touch to her work with our kit. Without further ado, here's Melissa's take on the BOOTIFUL October kit:
I was overwhelmed (in a good way!) when I first opened my box containing the October 2014 kit, Bootiful. I'm pretty sure I've never seen such an amazing variety of cool ribbons, trims, and ephemera. After taking about an hour looking at everything, I was inspired by the shiny "feather" looking bits (sequins) in the goodie bag to create a mixed media painting featuring an owl. After all, nothing says "fall" quite like an owl!
To begin, I grabbed a blank gesso board from my stash. This could really be done on anything: a canvas, gesso board, watercolor paper, heavy cardstock, the back of an old painting (I shop at Goodwill a lot for cheap things that I can paint over–just cover with gesso before starting). I collaged down torn up papers, and the tickets from the kit using plain old Mod Podge. This is how it looked:
Next, I searched online for the image of an owl silhouette. I printed it out on plain paper and cut it out. I then placed the image in the center of the board and using regular acrylic paint (in magenta) I just painted around the image.
Now for the fun part, just peel off the image to reveal the collage underneath!
Next I went to work on embellishing the owl. I used some of the lace trim cut into circles as the first layer of the eyes. Then I used the large silver grommet/buttons as the middle layer, and the black glass beads in the center. I used the flower pieces around the eyes. I cut out a triangle of the burlap for his beak, and glued down the shiny metallic feather like pieces for the wings. All of this was attached using hot glue. I also rubbed a bit of gold acrylic ink into the body to help tie all of the papers together. I love adding details like this in my artwork!
Finally , I finished the piece by hot gluing on another piece of trim at the bottom for some added interest. I also sealed the piece with resin. You could also seal using Mod Podge, gloss varnish, or a spray varnish. I choose to seal my pieces to prevent them from fading and to deepen the colors. This is totally optional of course.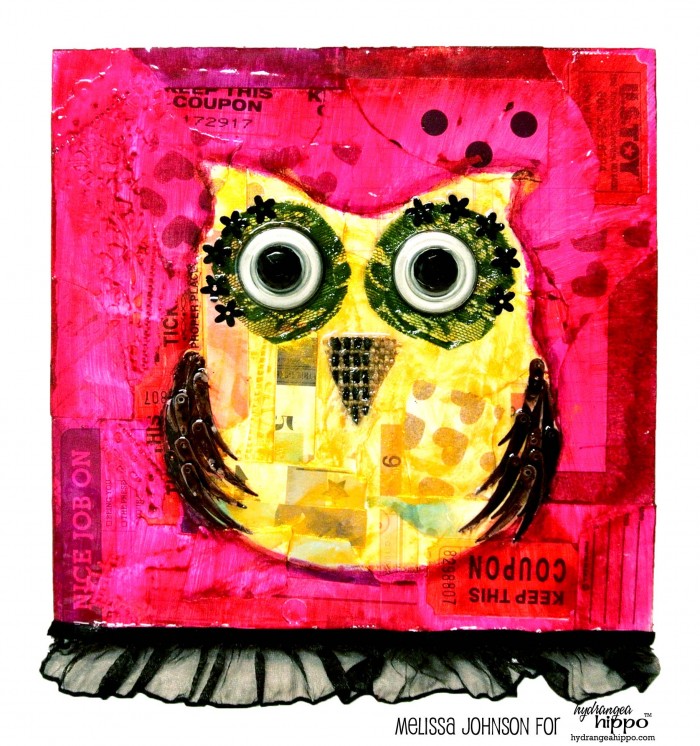 Thank you for that great project, Melissa! That masking technique with the owl was really fabulous! See more from Melissa on her blog.