Book Club was super fun last night! We are all definitely becoming good friends and making some great projects too! The project we made last night is on display at The Scrappin' Table if you want to check it out in detail. Also, you can always still sign up for book club, just at a pro-rated class fee.
Here are some more of the products coming out this summer!
Collage Press' new Camden paper line: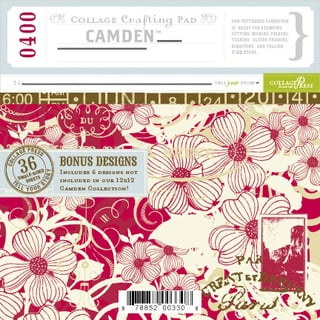 That's all for this Am. If you are on my email newsletter list, you got a few more sneak peeks this AM in your inbox from me! If you aren't on my email list, just sign up in the upper left corner of my blog here…
I also got tagged by Nicole so here you go, get to know a little more about me ;)
Ten Years Ago: In July 1998 I was pregnant with Katie and we were living with my parents in Phelan because I had just gotten out of the Army in Texas. Xaver was looking for work and I was at home since no one would hire a pregnant lady! It was hard times. I am glad we are in 2008 and not 1998!
Five Things on Today's To-Do List:
1. Get an oil change (I went 8000 miles on this–ahhh I never do that!!)
2. PO to mail LA County Fair entry form
3.Get some scrapping done, as always!
4. Katie and I might bake cookies. She needs to listen to me and do her chores before the fun can take place.
5. Go to our financial planner's new office grand opening this evening.
Snacks I Enjoy:
Kettle Corn, Chips & Salsa, Ice Cream
Things I Would Do If I Was a Millionaire:
Give 10% to charity/church. Invest 80% of the money so we could collect the interest. Then I'd use the interest to open my own scrapbook store/studio where people could come and scrap for free. Then I'd get new cars and make all the home improvements we want to do. I guess that is it because it is only a million… now a BILLION I could do something with! LOL
Places I Have Lived: Let's go in order…San Bernardino, Rialto, Texas, Rialto, Phelan, South Carolina, Monterey, Texas, Phelan, Hesperia, Phelan, Hesperia, Highland, Rialto, San Bernardino, Hesperia…whew…
4 People I am Tagging (who haven't already been tagged)
PJ
Cindy
Trisha
Sarah
That's all for today! Gotta figure out what I am going to enter in the LA County Fair so I can get that entry form sent out.