I am so excited to be back for another round of Craft Lightning!!! A group of crafty bloggers and designers get together and share craft projects that can be created in about 15 minutes or less in a series called "Craft Lightning"! Today I am sharing how to create a pair of custom Thing 1 and Thing 2 gloves, in honor of Dr. Seuss:
My kids love Dr. Seuss books along with the characters and movies and other products that have come out of the mind of the ultra-talented Dr. Seuss. I saw these gloves in the $1 Spot at Target and knew they would be perfect to make "Thing 1 and Thing 2" gloves for Matthew. The thing about kids' gloves is they are easily misplaced and mixed up in a classroom of 20-32 kidlets on cold winter days when their outerwear ends up in piles in the classroom and around the playground. I decided to customize these gloves by creating felt and puffy paint patches on them featuring some of Matthew's favorite Dr. Seuss characters, Thing 1 and Thing 2:
These come together lickety split but Matthew and I thought you might enjoy a fun video sharing how to make these. There are a few hours of dry time for the puffy paint but other than that, this project is super fast and easy to create:
This project is not only fast but it doesn't break the bank! Here are the supplies you'll need – I've linked some of them to affiliate links in case you would like to order supplies online. When you click and make a purchase, we make a few pennies … so thank you!
Supplies:
I hope you enjoyed this fun project and consider using felt and puffy paint to customize your kids' gloves and accessories! If you love Dr. Seuss, I also wanted to share about a great website with lots of activities, resources, and more for Seuss-lovers. The site is called Seussville and parents, teachers, and kids can use the site to take their Dr. Seuss enjoyment to the next level. Click the button below to see more Dr. Seuss inspired crafts from the Craft Lightning Hosts and bloggers: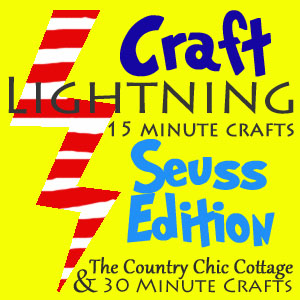 Which Dr. Seuss stories and characters are your faves?