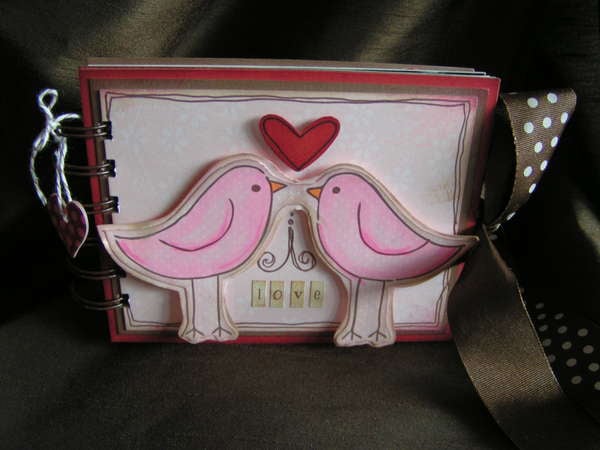 Everyone is always asking me to see photos of my family and I never have anything nice in my purse to show them. This last summer we got professional photos taken and these are photos I am proud to show! I created this mini brag book for my purse to showcase these photos. Now I can say "Yes" when people want to see photos of the family.
To keep it simple I cut 4×5 pages for the inside of the book from this chipboard. I didn't want the book to be too heavy but it needed to be sturdy to hang out in my purse. I completely covered some pages with photos. On other pages I added cardstock and patterned paper to create a simple design. In the middle of the book between photos of my kids I added a mini page to talk about my kids. I love to change up the pages in the middle of a book for a fun surprise.
I sandwiched ribbon between a piece of paper and a piece of chipboard on each cover to make a tie for the book. I punched and bound the book with the Bind It All. Since this project is 4"x5" it was really easy to punch the holes quickly. Set the machine to the "C" setting and then slide your page against the tab on the guide. Then punch away! I added a few embellies and journaling strips after binding the book. This project can be complete in less than 45 minutes, perfect for a gift for your honey! And don't forget Mother's Day will be here before you know it as well.
Supplies:
Paper, Cardstock, Stamps, Punch – Stampin' Up!
Tiny Alpha Stickers, Epoxy Hearts – Making Memories
Pens – Copic, EK Success (brown)
Ink – Close to My Heart, Colorbox
Craft Thread – Martha Stewart Crafts
Felt Stickers, Ribbon – American Crafts
¾" Brown Wires – Zutter Bind-It-All