It's the holidays. We need to get our cards made and mailed out because once you're a papercrafter, store-bought cards just won't do. People will think you don't like them anymore if they get a store-bought card in the mail! LOL Here are five easy-peasy Christmas cards to make this year. You could likely get them 30 done in under an hour.
Stamp a sentiment on a 4×4 piece of paper. Glue to one side of card. Crumple a strip of paper and add to one edge. Add a bow and some punched snowflakes and you're done!
Just a really simple card. I glued the "Joy" word to a circle and then sprinkled embosing powder on top and heated.
These two are the same basic design, just one is vertical and the other horizontal: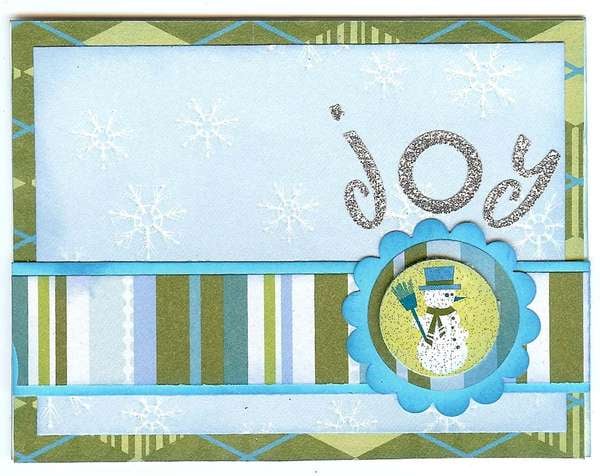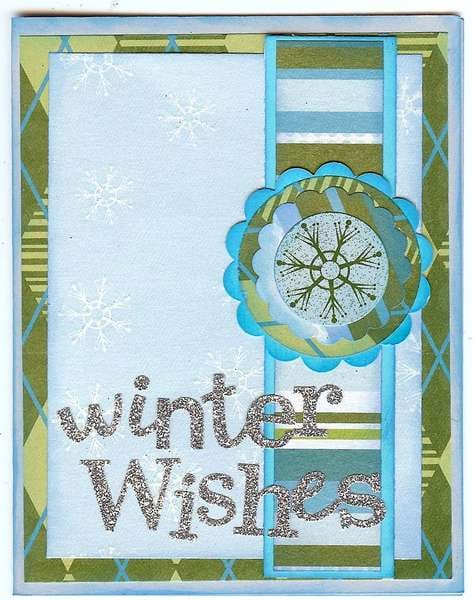 On this card patterned paper covers the entire front. Then I used two scraps in strips to make a corner on the lower right, Added a diecut star, some twine tied around the middle, and a rub-on sentiment–easy 5 minute card.
This card is so much easier than it looks! It has a larger circle inside of a larger scalloped circle. I cut two triangles from coordinating paper to make the trees. Then I stamped the word "wishes" one one side. Added some dots of stickles (glitter glue) to the trees and done in 5 minutes!

Hopefully these simple cards help you jump start your holiday cardmaking if you haven;t already gotten started! Christmas is less than a month away!! Which reminds me, I need to start on my cards too…