Christmas is over and now it is time to create! Here are some ideas of things to create after Christmas.
Christmas Card Wreath
You've received 800 cards from all of your fabulous friends–what can you do with them?! This wreath is way old school but you can dress it up with silk poinsettias, ribbon, buttons, or anything from your scrappy stash. You can diecut shapes from the cards, make mini boxes from the cards to create a wreath, or just stack and glue to cards in a circle shape to make a wreath. Lots of possiblities! Just search for "Christmas Card Wreath" at GoodSearch.com and you'll find videos and more to create these wreaths.
Make A Mini Book
Use your Christmas Cards, gift tags, gift cards (after you use them), and photos to create a mini book. I saved some gift tags my daughter made that I will be including in my book this year. I did a similar book to remember a birthday party by making a birthday party hat shaped book–for Christmas make the hat a Santa Hat!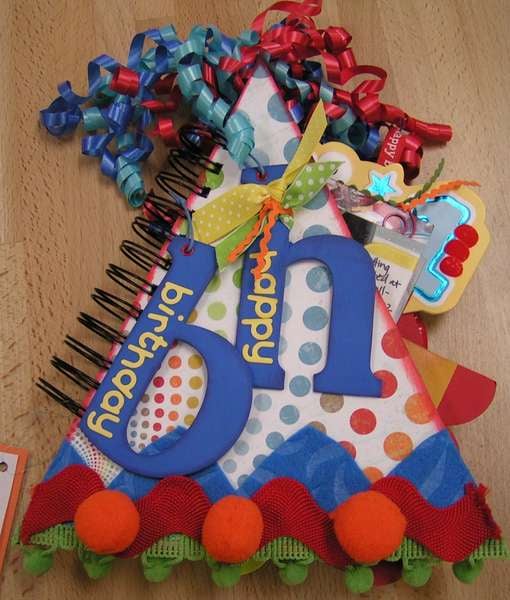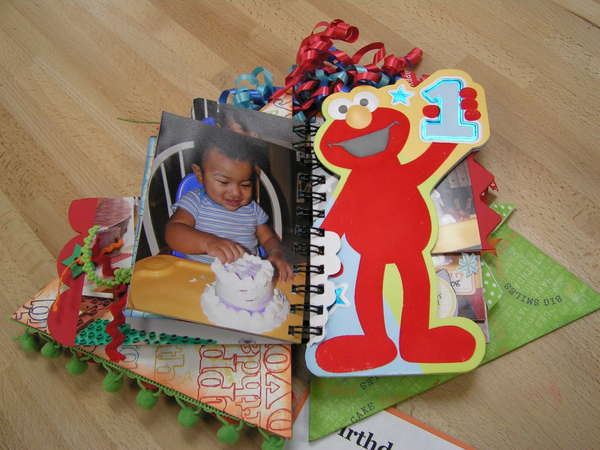 Gift Boxes Decorations
Save all of your leftover gift boxes to create a centerpiece or decoration for next year. You can get a great bargain on wrapping paper right now–get some paper that is all the same color and wrap the boxes neatly in the paper. Then stack the boxes from largest on the bottom to smallest at the top. Tie together with a pretty bow and add pinecones, silk flowers, or an ornament to the top. This makes a fun recycled centerpiece or you can make several to put around your house or tree next year as decorations. Here'a centerpiece from the Michael's website:

Here's some more ideas. And even more ideas on DIY.
Photo Card Ornaments
Lots of my friends sent photo cards this year instead of traditional cards. How about scrapping them like regular photos?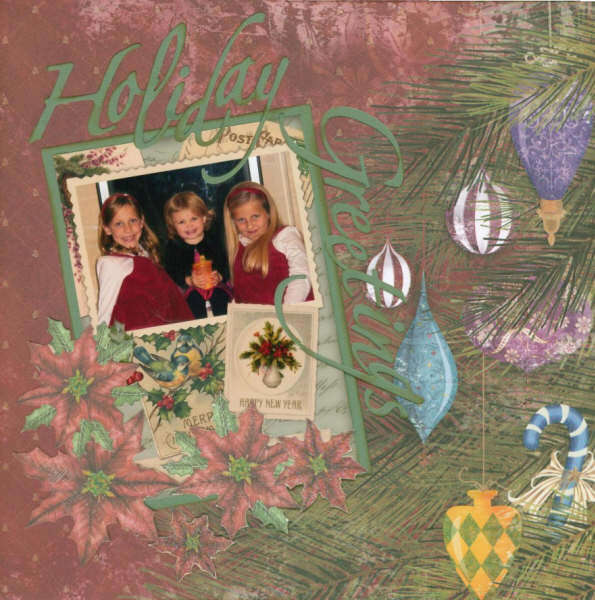 If you have ALOT of photo cards why not make ornaments from them? Measure the diameter of a clear glass ball ornament (which can be purchased for a bargain right now). Cut two circles from the photo cards with the same diameter of the glass ball (making it a little smaller helps too). I like to cut one circle with the photo in it and the other circle from the "card" part of the photo card. Roll up the circles and insert them into the glass ball with the backs of each circle facing each other. Put a little glue between the two circle backs so they stick together. Put glitter or fake snow in the ball and then re-insert the ornament hanger in the top of the ornament. Add a tag or greeting on the outside with the year. Use it on your tree or save it for next year to give as a gift to your friends.
Scraps of Christmas Paper
Take your scraps of Christmas and winter themed paper and make something! I always have scraps before Christmas from my making my Christmas cards and then scraps after Christmas from scrapping Christmas photos.
Diecut stars, tags, trees, and other Christmas and winter shapes from chipboard (or use pre-made chipboard shapes). Cover them with your Christmas paper scraps.
This ornament was made from a Bazzill diecut. The center was taken out and paper was inserted and then the word "JOY" was added. I got this ornament from a gift exchange at Pink Pineapple a few years back.

Make tags with the date on them (from scraps of paper in your stash) for the ornaments your kids make each year.

Create an ornament/money or gift card holder from a jewelry gift box with a clear lid. I got this idea from Scrapbook Boulevard–they had a couple different samples of these fun gift boxes. I put my own twist on it by using QK diecuts and covering the outside of the box with paper in a different way. This was one of the make n takes at my Holiday Scrapbook Party earlier this month:
Here's the backside of the box with a pocket to hold a giftcard, movie tix, or money:

Or cut triangular points on your Christmas scraps. Glue them to the chipboard pieces radiating out from the center of the piece (looks best on a star). Trim the excess paper off the edges to create a star pattern in the center of the shape. Add some metallic cord (on clearance right now at craft stores!) and use it as an ornament or a gift tag for next year.
Mine isn't even perfect because I really did use scraps. The center where the points meet could easily be covered with a rhinestone, diecut snowflake, or even another star. I never buy gift tags anymore because I just use my scraps!
Here's alot more ideas for Recycling Christmas Cards. Happy Creating and recovering from Christmas!! Hope your day was awesome!!