I knew this day was coming, just wasn't sure when…
The best part is that the card and layout are published in an article about Scrapbook Royalty!! Earlier this year Warren Gruenig contacted Elena about doing an article on Scrapbook Royalty and what it is we do. As part of the article, he wanted a card and a layout. I could have done anything but I totally wanted it to scream "Scrapbook Royalty". So I used bling, photos from our big March event earlier this year, and I used products from companies who help support Scrapbook Royalty through their generous donations to us, such as Tattered Angels and Prima Marketing. To top it off, Elena surprised me by sending a photo of she and I at an event last year to be featured in the article as well. Here is the page: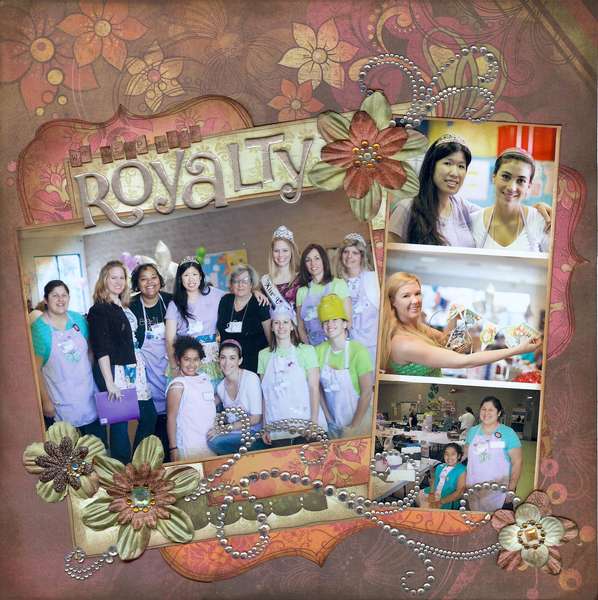 And the card:

I had already been published in an Idea Book for a home sales company (Leaving Prints, now out of business), been published online, and had a tip published in Creating Keepsakes but now I finally I have my first Layout and Card published in a hardcopy magazine!! And that was one of my goals for 2008 too (way back I posted them on my blog). WOOHOO!!
So if you get a chance, please purchase the Scrap & Stamp Arts December 2008 issue and read our story on page 9.

There is alot of great information in it about Scrapbook Royalty and all that we do. To purchase the magazine, click here to find a location to purchase it at or purchase a back issue online.
I love volunteering for Scrapbook Royalty and from day one I never expected anything out of it, except *maybe* an occasional "thanks" from my pal Elena. Well, I am just so grateful that awesome things like THIS can come just from me doing what I love to do anyways: give and create. It's just icing on the cake!! So volunteer for Scrapbook Royalty…you never know what might happen! Just ask me and I will show you the way…
I also wanted to thank Warren Gruenig for this opportunity. He was so pleasant to deal with and genuinely interested in Scrapbook Royalty and the charity work we do. And he so thoughtfully shared our story through his column in Scrap & Stamp Arts. Thank you Warren!!