We're redecorating our living room and I wanted some cool wall art to cover an otherwise plain wall that we painted with a bright accent color. I haven't painted or drawn for a long time and I have a limited budget so buying art was out of the question but I wanted an artsy look for the wall. Add that to my love for patinaed vintage book pages + Ikea's deep shadowbox styles frames and it all came together! You don't have to be a crafter to create this collage on your own wall — it is super easy!
To create this focal wall art collage, you need a few basic supplies:
If you don't like the idea of cutting up vintage books, use a contemporary book that you love but is damaged, an old comic book, or something else that is falling apart but represents your style and personality. I only ever cut up books that are brittle or otherwise too damaged to be read and are not of historical value. So bibliophiles, rejoice!
Most frames come with a paper inside that is used for display purposes. Turn this over and use it as a base to build the book page layers onto. For stability, adhere the mat that comes packed with the frame to the display paper with Xyron Dots and Xyron Mega Runner. It is possible to use decoupage medium to adhere the pages to the base. I chose NOT to use decoupage medium for a few reasons:
I wanted the book pages to have the same finish they have naturally. Decoupage medium can dry shiny or it can darken the pages once applied.
I wanted the edges of the book pages to lift off the background in some areas. Decoupage medium would likely glue all of the edges down flat.
Decoupage medium can sometimes warp the pages – again, I wanted it to look like the pages were just laying on the wall.
Here's a handy dandy video I made showing the process, which I explain in more detail below:
I ran the book pages for the background through the Xyron Create-A-Sticker Max to turn the pages into stickers. Xyron adhesive is extremely tacky but it is a DRY adhesive which results in no warping, no discoloration or any of the other things I did not want from a wet glue. After running the pages through the Xyron Create-A-Sticker, I applied them to cover the paper that was in the frame for display purposes. I then layered on additional book pages using the Xyron Glue Stick for Corners, being careful to avoid applying adhesive to the edges – I wanted the edges to curl up from one another so that it had the appearance that the pages were just floating in the frames.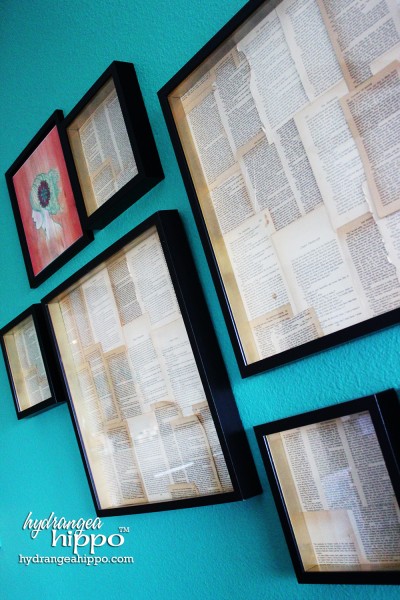 Next, to dress it all up, I removed the spacer in the frames that makes it a shadowbox and spray painted those gold. One coat of spray paint will give a shabby look and two coats makes it really gilded! I wanted CHIC so I went for two coats.
We also applied two coats of gold spray paint to some paper mache letters I picked up at our local Hobby Lobby. These are some of the initials of my family members. The gold letters will pull from the gold in the frames and also help balance the rich wall color.
Once the spray paint was dry, I put the insert back into the frame and then added the book page sheets. To figure out how I would display them on the wall, I laid them out on the floor first. Then we started attaching them to the wall. I added in two spots for other art that I can change out seasonally and then added the paper mache letters to the wall using temporary poster adhesive.
This can be displayed as-is or you can paint or decoupage on top of the book pages. I figure when I get tired of this look, I will add some paint, ink, and collage images to create a new piece from each of these frames. As you can see from the photos above, I've already tried a couple different combinations of purchased art with the book pages for different effects.
Do you love books? Or maybe just love pretty scrapbook or wall paper? Let me know if you'd create something like this for your home!