Who doesn't struggle with journaling? It seems to be a constant issue discussed in scrapping magazines, blogs, idea books, forums, and scrapbook classes. Here are five ways I get my journaling done.

Well, actually, before we get to that, I want to let you know that I am a Certified Fiskars Demonstrator and Fiskateer #2074 and a few of us are sharing Fiskars tools and tips every Friday on our blogs –its called Fiskars Fridays! Every Saturday I'll be posting links to all of the other Fiskars Fridays features on other Certified Fiskars Demonstrators' blogs.
This week I broke out the decorative edge scissors. My favorite Fiskars design is the "Clouds" Paper Edgers scissors because they can be used to make scalloped edges around anything – even circles!! Below you'll find a couple examples of this technique as well as the journaling tips I was promising you earlier. Enjoy!
Have the Subject Do It. If you are scrapping pics of your kids, have them do the journaling! Every year when I do Katie's school portrait page I have her write her name and I put that on the page, just to see how her handwriting changes from year to year. On this High School Musical Page I had Katie journal about her favorite songs:

Christi Abshier recently shared with me that she has her kids journal each night when they are on vacation and then she has that record of their own words to include on her pages. She says the kids love those self-journaled pages the best!
Practice and Mess Up. Use a scrap paper to write out your journaling first, using the same pen you plan to journal with. You can then see if it will fit in the area and then you also have a script as to what to write on your actual page. If you mess up, fix it. I sometimes cover a messed up journal spot with another one. If you journaled directly onto your page, try covering the boo-boo with a flower or a pre-printed journal spot and start over. It's okay to mess up!

On the page above where I used a Heidi Swapp journaling spot I actually used THREE of them since I messed up the first two. They are all just stacked on top of one another on the page.
Fiskars Fridays Tip

:

I used the "Clouds" Paper Edgers scissors

to create a scalloped trim around the large circle in the middle of the page. I traced a plate onto a piece of green cardstock to create the circle and cut it out. Then I glued the circle to the blue cardstock, with about ½" showing all the way around. I then cut along the edge of the green circle with the

"Clouds" Paper Edgers scissors

and voila – instant scalloped circle, any size!
On this one I journaled on the blue in white pen…big mistake. So I used a circle punch and cut out the messed up blue paper. Then I printed the journaling on orange paper using the computer and mounted the journaling from below. I realized later I could have just punched the circle from the orange and glued it on top too…but hey, now it looks better, either way.

Use the Computer. If you hate your handwriting THAT MUCH then use the computer to journal. There are loads of great handwriting looking fonts available, for free and some for a couple dollars, online. You can even buy font CDs in some stores. Journaling programs are also available. I still have a really old copy of Journaling Genie from Chatterbox I use to make spiral text! I posted a tip a while back on how to make computer printed journaling strips if you don't want a plain box of journaling. And scrpajazz has this great article on computer journlaing.

I actually used the journaling genie to create the spirals on the snail on this really old page kit I did for a swap. I still have two partial kits left if you want them—just let me know and I will send it to you for free. These snails need a good home…

I used strips on the above page. I like that this allows me to move the journaling around before I commit to putting it on the page. And I can make changes to the font and size if I don't like it once it is printed.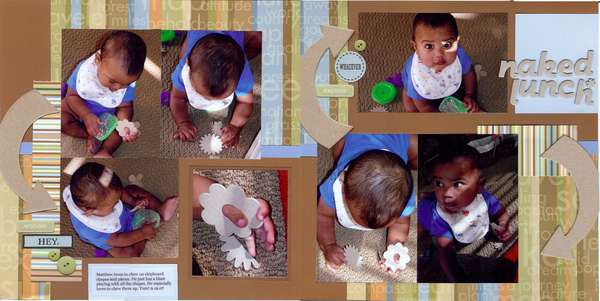 On this page I just printed a paragraph in Microsoft Word that fit the space on my page. Say the space is 4" wide. I set the page width of the document to 3.5" and type away. On the left side of the page is a ruler I can use to tell how tall my journaling can be. Resize the font until it fits in the space you need. Then print on cardstock and mount to the page. Maybe I'll post a step-by-step of how to do this one time…let me know if you want to see it and I will.

Use Pre-Made Items. Stickers, Diecuts with quotes printed on them, rubons—many accents come with titles or quotes printed directly onto them. You can use those to journal. EK Success has some really fun word stickers and date stickers I use a lot in my journaling. Making Memories also has some cute definition stickers to use and tiny alpha stickers as well. And Karen Foster has signs that make great titles, like the one I used on this page:

Fiskars Fridays Tip:

I used the "Clouds" Paper Edgers scissors

to create a scalloped trim around the circle photo on the side of the page. I punched a circle from a photo. Then I glued the circle to cardstock, with about ½" showing all the way around. I then cut along the edge of the photo circle with the

"Clouds" Paper Edgers scissors

to create the scalloped circle border on my photo!



I used a pre-printed quote for the journaling on this page:

I used stickers with pre-printed words on them (by EK Success) to do the journaling on this page:
Break Away From Rows. Instead of trying to journal in nice level straight rows, why not follow a curve or make your own pattern on a page? I love doing this when I am in a creative rut as far as journaling. And you don't have to worry about it being straight or perfect either.

On the page below I used the rims of plastic and paper cups to stamp circles with paint on my page (I was at Desert Scrappers Retreats and wanted circles!). After I finished the page, I used the spaces made by the overlapping circles to create spaces for me to journal.

Frame the photo as I did on this layout:

And I did the same thing on this layout:

So break out of the "rule" that journaling has to be in your own handwriting and be straight. The point is getting the words onto the page so you can remember the moment. Have a great weekend and I hope these ideas inspire you!