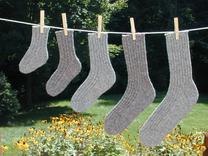 My friend and Scrapbook Royalty's Founder, Elena, is part of the Fiskateer Charity Fiskamittee and every month they will be choosing a different way to help others. January is "Poverty in America Awareness Month" and with that the Fiskateer Charity Fiskamittee is starting 2009 off by focusing on this special cause.
Here are some facts about socks and how they can help "sock it to poverty."
Socks are vital to overall health of those living on the streets.
Socks are often not donated enough and are greatly appreciated by the recipient.
Most homeless and impovershed people do not own shoes that fit properly or are not in good condition. This increases the importance of socks.
Many people suffer from diabetes and other ailments and they could benefit from socks with extra support.
Not all shelters accept clean used socks so it's important when collecting that we collect new socks.
Socks are relatively inexpensive to donate.
There are men, women and children that live on the streets and all could benefit with a new pair of socks.
PLEASE SEND Scrapbook Royalty some SOCKS!!
All sizes are needed!
Please send them to:
Scrapbook Royalty
PO Box 910665
San Diego, CA 92191
For more information and to find out different ways you can donate socks please Click Here.
Also I saw Target has socks in the $1 spot again. Kids socks for $1 a pair and larger socks 3 pairs for $2.50. So you don'thave to spent alot to give a little.