I am so excited you're here!! These watercolor curtains have been featured on countless design blogs, like Apartment Therapy, and are one of my most popular projects of all time. But I have a confession to make: I don't even like tie dye and these are ridiculously easy to make. We don't have to let the fancy designers know that though!
We've been updating our family room with a modern, but homey décor style. One of the biggest challenges has been finding curtains for the back wall of windows and doors. You might be facing some of these same challenges when trying to find curtains for your home:
Stores sell "short" curtains. Newer homes seem to have higher ceilings. Most store-bought curtains top out at 96″ inches long while modern homes need curtains at least 103″ long. I don't know why all the stores sell curtain panels for short windows when all the homes built in this area in the last 10 years have tall windows.
Curtains over doors. Curtains need to look pretty and hide stains – that is not something many patterns can accomplish. At least, not any patterns I am interested in. My curtains hang over a sliding glass door and they always have chunks on them from my kids. It's just the reality, not something I condone!
Many curtains look dated as soon as you buy them. The patterns at Target and Walmart are the patterns that were popular in design stores 3 years ago. The patterns at the design stores cost more than my car. Making your own curtains means using fabrics that are even older out-of-date, granny-style patterns or forking over big cash for fabric at design stores. (Um, no, I will not be paying $400 for fabric from Michael Levine's in Downtown Los Angeles for these curtains).
I needed a practical, colorful, easy to clean solution as these curtains cover access to the back door, a high traffic area in our home. Do you have the same challenge? Keep reading! This post contains affiliate links.
The solution: Make custom curtains on the cheap!
After months of shopping for fabric and coming up empty, I decided to make my own custom fabric using Tulip® One-Step Tie Dye Kits and white fabric. I picked up about 40 yards of white fabric from a shop in Downtown LA for about $1 a yard. SCORE! If you don't have a local garment or fabric district, check online or check for fabric outlets and clearance items. Plain white cotton is often cheaper than printed fabric or dyed solids. You can also use a coupon at one of the box fabric shops to get all the fabric at once for 40% off retail.
Once I decided to dye the curtains myself, I needed to decide on a design. Shibori was too difficult. Tie Dye was too 1970s. Ombre was overdone. I decided on WATERCOLOR curtains!
Watercolor is a huge trend that looks both colorful and delicate at the same time. It's not going anywhere soon. I love the look of watercolor washes, the ways the colors blend together and the way that you can use a lot of different colors to create a unified look. This watercolor dye technique was just the ticket!
Here's What You Need:
How to make Tie Dye Watercolor Curtains:
Prep: I purchased 40 yards of wide cotton fabric and washed it to prep it. If you have a serger, serge the edges before washing to prevent fraying and pulled threads. Always wash fabric before using it in case of shirnkage and to remove any chemicals or starches put on the fabric to roll it. Fabric from Downtown LA is usually kind of gross so definitely WASH IT first. After washing, cut the fabric into 110" long panels, hemming both ends of the fabric and sewing a pocket for the rod.
NOTE: You can use purchased or handmade curtain panels for this project but you must wash them before dyeing.
Step 1: Soak the panels in water. A large plastic bin might be the easiest way to do this all at once. It is important that the panels are very wet. You can also use a hose with a sprayer to wet the panels.
Step 2: Lay plastic or a tarp on your work surface. This should be something non-porous that you can roll the panels into after you've dyed them. I dyed these on my driveway, which is concrete, and on a wood table in my backyard. I covered the surfaces with black trash bags and black party table cloths to protect them. Otherwise, I might have had a tie dye driveway! I guess if that's your thing…
NOTE: You can use gloves to protect your hands from being dyed. In fact, I recommend it. I also recommend wearing goggles or eye protection to prevent the dye powder from getting into your eyes. Also, the dye powder may get on your clothes so don't wear anything you love. Wash these clothes separately from your other laundry as an extra precaution in case they do have powdered dye on them – it will activate when the water in the washing machine touches it.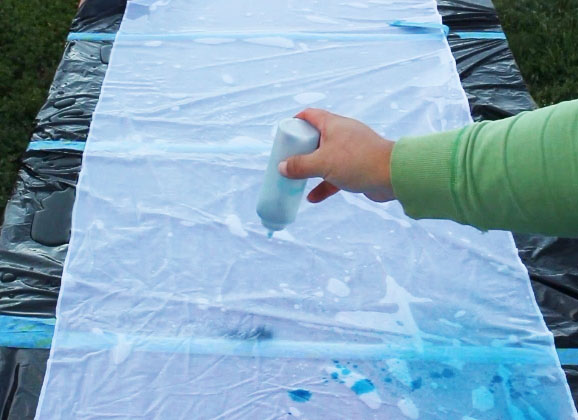 Step 3: Lay one panel on the work surface. Squeeze the Tulip® One-Step Tie Dye™ bottles to "puff" out some of the powdered dye onto the wet fabric as desired. Do not add water to the Tulip One Step Tie Dye bottles. Add as much of each color as desired. Use the Tulip® One-Step Spray Dye Kit™ to cover larger areas with dye. The powdered dye will give a splattered effect while the spray dye will spread color over large areas.
Step 4: Stack a second panel and then a third panel on top of the first panel. The dye will soak through from one panel to the other. Add more water if needed. The reason you need to stack the panels is it will help the dye blend from one panel to the others. The change in colors is really hard to create consistently if you dye each panel separately and since I was going for a graduated, rainbow look, the colors needed to match up from curtain to curtain since they would be hanging in one connected row. If you are using these in separate areas of your home, you don't have to worry so much about the design on each panel matching. Stacking the panels while dyeing takes up less space and it easier to roll them all up when they are set to "marinate" for 6-8 hours (a later, but crucial step).
Step 5: Repeat the dyeing process on every other panel, stacking the panels on top of one another like a stack of pancakes.
Step 6: Roll the panels in the plastic or tarp and place inside of a plastic tub or large plastic bag. Allow to set for 6-8 hours.
Step 7: Unroll the panels and rinse the excess dye from the panels. This is messy so it's a good idea to do this outside with a garden hose if you have a lot of panels to rinse.
Step 8: Wash and dry the panels in the washing machine. Hang the curtains on rods and enjoy!
These watercolor curtains add just the right punch of color to my space in a unique and artsy way. Fingerprints don't show up on them and they are easy to care for and wash. An added bonus was discovered the morning after I installed them – the sunrise shines through the curtains and bathes the room in a warm, colorful light. It's a wonderful way to start the day!
Are you going to make these? I'd love to know where you'd use them in your house!